Earthquake disaster prevention
N-Grip secures the safety of workers from the fall of production equipment due to an earthquake and prevents equipment damage.
Safety and Relief

Are you having trouble securing large-scale equipment safely or taking disaster prevention measures?

N-Grip is a seismic-resistant metal bracket that "protects people and equipment" from an earthquake with a seismic intensity of class 7. By installing it at the foot of the equipment, damage such as equipment damage or failure due to an earthquake can be minimized. In addition, by minimizing damage, you will be able to restore equipment as soon as possible, and we will provide our customers with security and safety by reducing the opportunity-loss caused by stoppage of manufacturing lines.

Earthquake resistance

Prevents equipment of up to 4 tons from falling due to an earthquake.

The video on the left is a scene of an experiment in which N-Grip was attached to equipment weighing about 300 kg and was used in a seismic vehicle. By comparing the scenes, you can clearly see there is no displacement or falling of the equipment with N-Grip.
By installing in equipment and other large items, we can prevent falls from an unexpected earthquake and secure a worker safety and an evacuation route for workers.

Environment

Reduces environmental impact and long-term costs.

Compared to conventional anchoring, anyone can easily attach and detach without damaging the floor surface. This prevents dust discharge and floor deterioration and keeps the production environment clean.
Even if the layout is changed frequently, it can be used repeatedly by washing the mat with water, which leads to reduction of environmental load and "long-term cost reduction".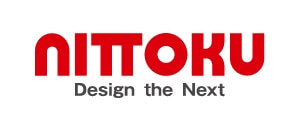 Manufactured by NITTOKU Co., Ltd., the top manufacturer of FA winding machines
We are a precision FA manufacturer that manufactures automated equipment, centering around coil winding equipment. We have manufactured "N-Grip earthquake resistant device" with the belief that the safety of people and preventing loss of opportunity are critical when operating manufacturing equipment.
N-Grip features
Seismic intensity 7 class compatible

As a result of the vibration proof experiment, a seismic intensity class 7 (818 Gal class at the time of the Great Hanshin Awaji Earthquake) was cleared. Based on the customer's equipment information, we will calculate the seismic resistance by our own calculation method.

Easy installation and layout change

Compared with conventional anchoring, anyone can easily attach and detach without damaging the floor surface, so it is also suitable for sites with many layout changes.

Ideal for cleanrooms

Since anchor construction is not required, it can be installed without taking measures against dust. It can also be reused without creating dust when changing the layout.

Can be used repeatedly after washing with water

Even if dirt adheres to the GEL mat, it can be used repeatedly by washing.

Usable environment temperature : -20℃ to 75℃

Since it is not affected by temperature changes, it can be used in a wide range of environments.

13 types and over 300 variations.
Supports a wide range of equipment

As we have various models and more than 300 kinds of parts, you can select the metal brackets according to your facility and usage environment.

Designed to avoid tripping.

The metal brackets are designed so that they do not protrude from equipment, so there is no risk of tripping. The brackets may protrude depending on the shape of the equipment and the installation environment.

Customer specific design available

If the standard metal brackets do not fit your facility or equipment, we will design a metal bracket that matches your facility and manufacture a dedicated metal bracket.

Can be used continuously by replacing the mat

The mat life is about 10 years. The useful life may be shortened depending on the usage environment.
Comparison with anchor bolts

Anchorless earthquake-resistant equipment N-Grip is superior in various respects to anchor-fixed type products. The floor environment may be made possible by applying primer prior to installation. Contact us for details.
[Example of floor material that can be installed]

Epoxy urethane vinyl, urethane, acrylic, P tile, iron plate, etc.
[Not recommended floor types]

Deteriorated painted floor, cement*

Cement can be handled with a primer.
Acutal-use cases
Precision machine factories, clean rooms, offices, etc.
Over 20,000 units in use!
So far, N-Grip has been introduced by automobile parts manufacturers, precision parts manufacturers, chemical manufacturers, cosmetics manufacturers, electronic parts manufacturers, medical equipment manufacturers, food manufacturers, etc.
Structure / Material
SCROLL

How to install/remove
Can be installed in a short time since drilling and dust counter-measures are unnecessary.
N-Grip does not require drilling or dust countermeasures, so even people without specialized knowledge can easily install and remove it in a short time. Please see the video for detailed instructions.
What to prepare

Paper wiper, spanner, water or neutral detergent, bar (for removal)
How to install/remove N-Grip (6 minutes 20 seconds)
Accreditation and testing by public institutions
Seismic test "Passed experiment at Disaster Prevention Research Institute, Kyoto University
Kobe 818Gal (horizontal) 332Gal (vertical) with a seismic intensity 7 class"
Adhesion test

35N/cm2 (vertical): 25N/cm2 (horizontal)

Typical value under in-house inspection standard conditions (when compression rate is 20% for 30 minutes, holding and crimping, and then pulling speed 500 mm / min)

Suitable for off gas (VOC) clean room

VOC quantification = not detected (23℃ x 24 hours) Toluene, xylene, non-silicon, etc.

Hydrolysis resistance test Temperature 80°C, humidity 90%, left in constant temperature and humidity chamber for 14 days
Result / No change in appearance Hardness, adhesive strength / No problem
RoHS2 compliant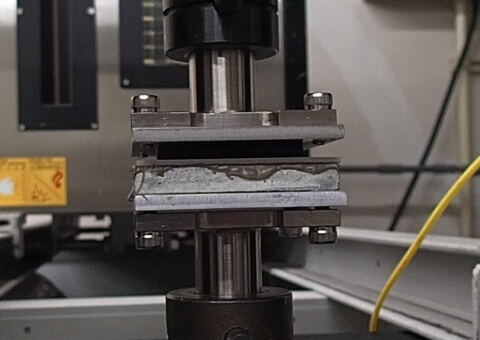 Purchase flow
This is the flow up until purchasing N-Grip. Usually the delivery time is about one month, but shorter delivery times may be possible. If you are in a hurry, please contact us.
SCROLL
STEP

1

Floor material confirmation

We will check if N-Grip can be attached to your floor.

Click here for details on floor materials

STEP

2

Confirmation of equipment weight

We will check the weight to calculate the required mat area. Using the equipment size and the center of gravity, we can calculate the most suitable mat area.

We will use the equipment weight as a standard.

STEP

3

Confirmation of leg shape

In order to select a metal bracket that can be fixed without interfering with the equipment, we will check the shape of the legs and the height from the floor to the equipment.

STEP

4

Selection of metal brackets

Based on the information of STEP 1, 2 and 3, we will select the metal brackets suitable for your equipment from the [Selection Catalog].

A dedicated design is also possible.

STEP

5

Quotation

We will submit a quotation for the selected bracket. If you would like a quote, please contact your nearest sales office.

STEP

6

Purchasing

We will conduct an inspection and ship to you.

Since it is made to order, the delivery time is about one month.
About product price
N-Grip is an open price product. If you would like a price or a quote for a product, please contact your nearest sales office.
About specialized design
If you have a look at the selection catalog and there is no compatible metal bracket, we can propose a special design, so please feel free to contact us.
Selection Catalog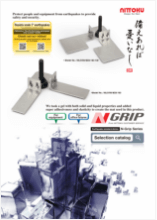 You can browse and download the product catalog of N-Grip.
Download
PDF(6.46MB)
Contact us
Please do not hesitate to contact us if you have any questions regarding our products or to request a quote.
Contact us