Questions about products
How long can the mat be used for?

You can use it for about 10 years.

It may be shorter depending on the environment.
Are bolts, washers, and application film included with the purchase?

Everything is included. If any items are missing, please contact us.
Click here for inquiries
Is the mat attached to the metal brackets when delivered?

It is delivered attached to the metal brackets.
How are seismic calculations calculated?

Calculations are made with reference to the "Building Equipment Seismic Design/Construction Guidelines (2014 version)".
Is silicone etc. in the material used for the mat?

Silicon is not used.
What material do you use for the metal brackets?

All stainless steel (SUS304) is used except the mat.
How thick is the bracket?

The thickness of the metal bracket is 5 mm.
Do you offer laser engraving?

Laser engraving is not offered.
Questions about ordering
How long is the delivery time?

Made-to-order product: Typically about 1 month
Stock: about 1 week

If the number of orders is large, we may not be able to meet the desired delivery date.
"Inventory" (4 types)
NAJV90-M20-160, NAJV90-M20-210, NAJV90-M20-190-130, NAJI90-M20-160

If you are in a hurry, whether for made-to-order products or stock products, please contact us separately.
Is it possible to purchase only the mat?

Sorry, we do not allow purchase of only the mat.
Customers who have previously purchased N-Grip may purchase a spare mat.
What should I do if there is no compatible metal bracket in the "Selection Catalog"?

It is also possible to listen to your request and make a special design to suit your equipment.
Please contact us for details.
Click here for inquiries
What is the price?

Open price. Please contact our sales office or retailer for a quotation.
Click here for a list of sales offices/distributors
I would like to install N-Grip as a trial. Are there any samples?

Samples are available.

Please note that we may not be able to accept youre request due to limited quantity and available models. If necessary, please contact us or our distributor.
Click here for a list of sales offices/distributors
Questions about use
How can I remove the mat from the bracket?

It can be peeled off by holding the corners of the mat and gently stretching it horizontally.
In the catalog, 4 pieces are used for 1 piece, but is it okay to install 2 pieces on the diagonal?

Since the seismic design is based on conditions including the quantity used, we ask that you fix it at four basic locations.
I'd like to visit and make a selection. Is it possible?

Local selection is also possible, but we can typically confirm by e-mail and telephone.

If it is determined that a survey is required, you may be asked to pay transportation expenses. If there are multiple visits, we will respond by e-mail or telephone.
Water and oil are scattered on the floor. Can I use N-Grip?

Please refrain from using on a floor that is always wet with water or oil. (Example: processing equipment, food equipment, etc.)
Can it be used on floors like concrete?

It can not be installed as is, so please paint the floor.

《Simple procedure for mounting on concrete》 There are also floor conditions, so this information is for reference only.

① Remove dust on the floor.
② Use alcohol (parts cleaner, etc.) to degrease the floor.
③ Spray an acrylic lacquer spray on the floor about 3 times to make a flat surface on the floor.

As soon as the processing of "① to ③" is completed, perform the fixing work as usual.
Does the stickiness on the floor remain after removing N-Grip?

After removal, stickiness does not remain. Also, there is no color transfer.
Is there a guarantee if the equipment collapses due to an earthquake after installation?

This is a product that minimizes damage from an earthquake, so we are not responsible for damage caused by an earthquake.
Does N-Grip absorb equipment vibration?

Since it does not absorb vibrations, please use it as a seismic measure against earthquakes and as a fixture only.
Can N-Grip be used to prevent displacement due to the vibration of the equipment itself?
Or can it be used to prevent misalignment due to the operation of a handling robot?

This is a product for earthquake countermeasures and fixing equipment. If using it for other than the intended purpose, It is tup to the customer's discretion when using it.
Will the mat melt?

Please note that the mat may be damaged if it comes into contact with an acetone-based solvent.

The applicable temperature is -20 to 75C degrees, so it can be used in a wide range of environments.
Selection Catalog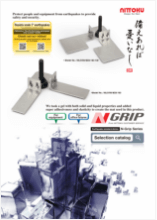 You can browse and download the product catalog of N-Grip.
Download
PDF(6.46MB)
Contact us
Please do not hesitate to contact us if you have any questions regarding our products or to request a quote.
Contact us