Three major features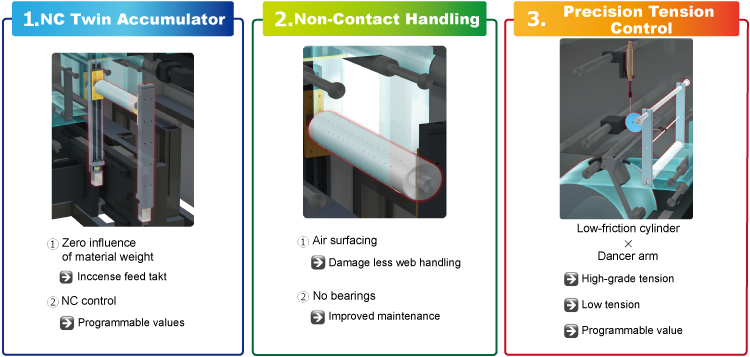 Example of processes that can be incorporated into a high-speed intermittent film conveyor
Screen printing, inkjet printing, exposure, press (forming), washing, drying, coating, laminating (bonding), joining, inspection
Transfer experiments are possible upon request

【R2R demo machine】
Base material specification
Base material
PET, PI, PP, PEN, Cu, SUS, non-woven
Substrate thickness
~ 150μm
Substrate width
~ 600mm
material specification
Material (core) inner diameter
φ3inch
Material outer diameter
~ Φ400mm
Material weight
~ 100kg
Machine specification
Transport method
Continuous transfer / intermittent transfer
Continuous transfer capacity
Up to 50m / min
Intermittent transfer capacity
~900mm/0.9sec
Intermittent feed pitch
~900mm
Tension value
10N~100N
* Adjustable to customer specifications, please consult with your local branch offfice
Experimental high-speed intermittent film transfer equipment (roll-to-roll) is available.
This is an effective experimental device for customers who require materials with severe substrate deformation and extremely low tension.
In addition, when manufacturing the actual machine, we can respond to various requirements (proposal of a one-of-a-kind system). If you have any questions, please feel free to contact us.
Tabletop transfer device (concept model)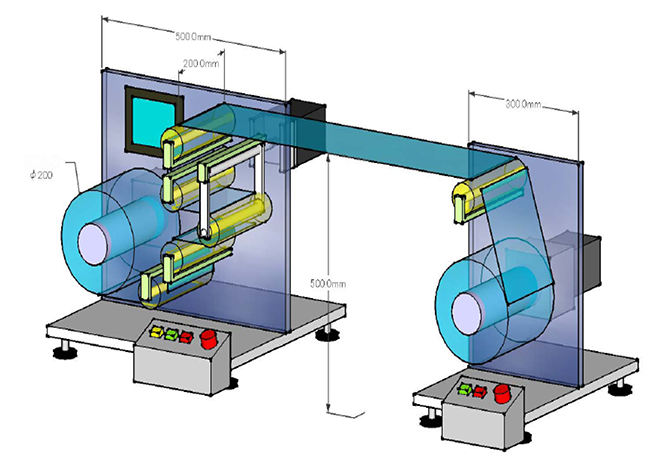 Lab machine reference specifications
Base material specification
Base material
PET, PI, PP, PEN, PMMA, PC, TAC, COP, COF, Cu, SUS, non-woven
Substrate thickness
~ 100μm
Substrate width
~ 200mm
material specification
Material (core) inner diameter
φ3inch
Material outer diameter
~ Φ200mm
Material weight
~ 20kg
Machine specification
Transport method
Continuous transfer / intermittent transfer
Continuous transfer capacity
~ 50m/min
Intermittent transport capacity
~200mm/sec
Product winding accuracy
±0.5mm
Minimum roller diameter
φ60mm
Pass line height
500mm
Material fixing
Cantilever (with screw)
Positioning control device (Optional)
EPC
Tension value
10-50N / full width
Product Inquiries